4mm 30m Wire Fiberglass Fish Tape

Fiberglass Fish Tapes feature a low-friction, easy feed design. The grooved profile and fiberglass core provide rigidity for long distances and less surface contact with wires when pushing through crowded conduit. It comes with a durable leader to help with navigate.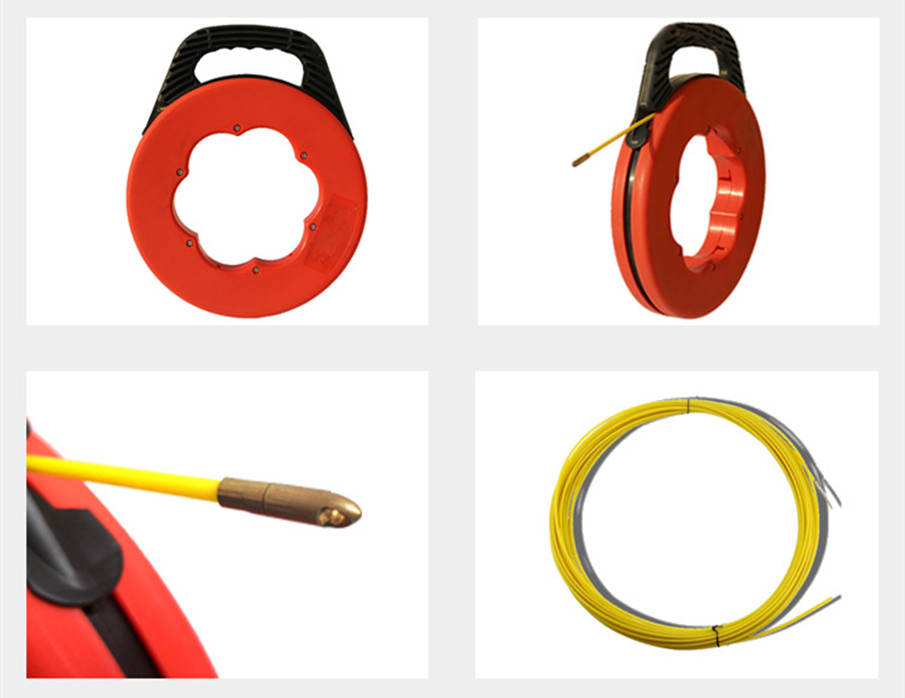 Fiberglass Fish Tape Specification
Fish Tape Features
● Non-conductive fiberglass tape with patented low-friction coating for faster and easier fishing
● Perfect for fishing in conduit with wire or cable present
● Advanced comfort handle grip reduces fatigue
● Superior rapid tape pay-out and rewind
● Smaller Fish Eye with offset bend for improved fishing ability
● Improved low profile tip for easy fishing through all sizes of conduit
● Viewing Port gives visibility to remaining tape and ability to remove jobsite debris quickly
● Rugged case design improves drop impact capability
● Flared case with Grip Ridges for no slip handling
● Replaceable tips
● Exclusive, unique, lightweight reel for easy positive feed out and rewind
● Excellent for installation of telecommunications and data communication cables in overhead plenums, above suspended ceilings and under floors
● Fiberglass fish tape is the fastest manual fish tape available. It is intended for fishing only. Rope or line is recommended for pulling.
Fiberglass Fish Tape Packing and Shipping

Warning
● Wear approved eye protection when feeding, pulling or rewinding fish tape.
● Although fiberglass fish tape itself is non-metallic, its metallic tip and leader are conductive and could be grounded against conduit. Do NOT use on or near live electrical circuits.
● Do NOT pull a fiberglass fish tape with any type of mechanical fish-tape puller. A mechanical puller will severely damage the tape, and could lead to personal injury.
● Use a safe work position to avoid loss of balance when using fish tape.
● Do NOT bend a fiberglass fish tape to a radius smaller than 3'' (76 mm) or the tape may break.
● Never remove screws while fish tape is coiled inside reel.
FAQ
1. What is the MOQ of Fiberglass Fish Tape?
The MOQ is 5 sets.
2.What is the lead time?
The lead time is around 3 days to 8 days, based on your quantity.
3. Can you offer the free samples,how can we get ?
Yes,we can offer free samples for you testing the quality, you may pay for the freight.
4. Can we do printing on the Fiberglass Fish Tape?
Of course,we can make kinds of printing and label printing on Fish Tape as your requirment.
5. How can we choose the shipping way?
For the small order,we suggest to ship by DHL,FEDEX,UPS door to door service. It will take 3-5days.
For the larger order,we suggest to ship by sea.If urgent,you can als choose air shipping.
Contact Us

Related Products:
Fiberglass Duct Rodder, Fiberglass Round Tube, Fiberglass Rod,Fiberglass Products,Fiberglass Tube,Cable Roller, Cable Pulley, Cable Tractor,Engine Powered Winch, Cable Grip,Connectors, Come Along Clamp, Distance Measuring Wheel, Safety Rope, Ratchet Cable Cutter,etc.