Comprehensive Physical Examination Health Screening Kiosk
Health Screening Kiosk (Model: SKTD1007) is one of SUNSON's patent products in Healthcare industry, based on the reliable sensors, SUNSON developed our its software including the front end, data base and back end applications, which can offer the turnkey solution of primary health screening by increasing the availability and efficiency of basic health check-up functions, and also by providing a real time monitoring system where customers can keep track and get access for all their previous health records and compare with the current results.The production is strictly following the MDSAP quality management system and the machine already qualified ETL 60601 certification.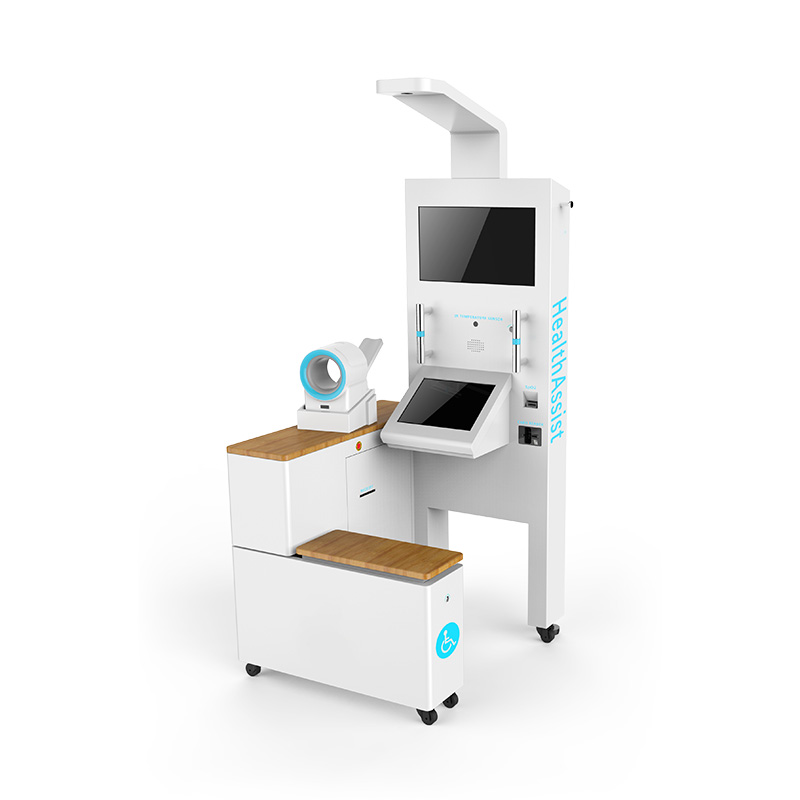 I. Primary health check up items:
• Blood Pressure
• Body Height
• Body Weight
• Body Temperature
• Blood Oxygen (SPO2)
• Body Mass Index (BMI, generated by equation)
(with local AD/Media player for pictures & videos)
II. Certification
• FDA Registered Class II Medical Devices
• ETL60601 Certified
• MDSAP Certified.
• RoHS Compliant
III. Optional Modular Design
UPS power supply
Video conference
Fingerprint for authentication
Barcode/ QR code scanner for Mobile payment.
Remote advertisement system
Email the results to customers
Flexible communication (Network Cable, WIFI)
IV. Technical Specification
Module Name

Specification

Industrial PC

Motherboard: W-MBT196, Processor J1900 (2M Cache,2 GHz); DDR3 4G RAM; 500GB HD; 2*RTL8111E LAN/6*COM / 1*DDR3L SODIMM/1*MINIPCIE 3G/1*MINI-SATA/1*SATA_HDD /1*VGA/1*HDMI/1*SIM/1*GPIO/1*LVDS/1*KB_MS2/7*USB,
Integrated Net Card, Sound Card, Display Card With computer case and power supply

17" Touch Screen

Medical Class touch monitor, Active Area:378mm×303mm; Resolution:1280×1024@60Hz; Response Time(Typ.): 5ms;Contrast Ratio(Typ.):1000:1; Video Input: Analog RGB; Signal Input: H/V Separate Sync. (TTL);Touch screen Type:17" IR touch module; Brightness(Typ.): 250 cd/m2

21" LCD Display Screen

Medical Class LCD monitor (LED backlit), Brightness: 350cd/m2; angle:horizontal 140°above, Vertical 125°above Contrast: 700:1; Lifespan:more than 40,000 hours; Operating temperature: -20 to 50ºC; Response Time:16ms; Dot pitch: 0.297; Max. resolution: 1024×768

Blood Pressure Module

Measure the Adult Pulse frequency and blood pressure within 0 to 300mmHg with resolution 1mmHg, Tolerance± 3mmHg

SPO2

Red and infrared light beams to determine the percentage (%) of hemoglobin in the blood that is saturated with oxygen.

Body Temperature

Infrared body temperature sensor to measure the body temp ranging from 34 to 43 ºC

Height Measurement

Detecting Range By US ultrasonic probe: 2M±9mm; Supply Voltage: 5V - 12V DC; Standby current: <15mA; Transient current: about 250mA; Resolution: 1mm; Interface Mode: PWM,UART, RS485; Ultrasonic Frequency: 50KHz; Detection Angle: 15 degrees (-6dB); Working Mode: Single echo mode and multi echo mode; Working Temperature: - 20°C to +75°C; PCB Size: Approx. 50 x 50mm;

Weight measurement

By precise balance pressure sensor with a max weight of 200KG ; RS485 Port; Coin type digital transmitter

3in1 Bank Card Reader

EMV certificated manual insert type magnetic / IC card reader, USB port

80mm Thermal Printer

Thermal printer; Automatic paper cutter; RS-232; Paper in width: 80mm; Speed: 150/second; Invoice print, with black mark sensor

Speakers, Amplifier

one Speaker; amplified output; Multimedia speaker

Accessories

Bamboo Wooden Surface for Seat and pressure cuff Surface.

Movable Seat for people with disabilities (ADA compliant)

Movable and adjustable blood pressure cuff
Sunson Profile

FAQ:
Q1: Can I customize the product I ordered?
A1: Absolutely yes, customization offer from customers are welcome in our company.
Q2: How long is the warranty time for your products?
A2: The standard warranty is 1 year from the date of delivery, but can extended if extra cost paid.
Q3: What is your after-sale service?
A3: Our well-trained engineers can provide you any technical support in time. Our sales persons are also available at 24/7 on mobile phone, email etc.
Q4: What payment methods your company accept?
A4: We accept most of the payment methods, but mainly accept T/T,L/C.